BY Shea Fite
Micro Philanthropy:
How doing good is easier than you think
Philanthropy is at the top of many conversations in Tulsa as a local billionaire just spent almost five hundred million dollars on a park for our citizens. It is an incredible gift. The generosity has blown us away.
Our business has experienced something new as well. Our business has not achieved that kind of success but we have found a way to to strategically impact those close to us. Micro Philanthropy is about devising ways to deliver your giving dollars where you see a real need. The reason this can be so good is because now you are indeed present and available to see it through. Dignity is delivered because you are directing funds toward a situation that you know will make a real difference.
I want to introduce you how we impacted two young teenagers the same age as our children with our personal set of talents, using the things we were already interested in and involving our own close relationships with other generous friends and colleagues.
These two siblings were recently diagnosed with a rare genetic disorder called Charcot-Marie-Toothe Disease. As a parent, hearing the diagnosis of any disease is difficult. This personally pricks our hearts as we have had medical difficulties with our own children. As a parent I can only imagine how tough it would be to hear two diagnosis'. This immediately moved Elora and I in compassion.
This particular genetic disorder includes weakness of the foot and lower leg muscles, which may result in foot drop or a high-stepped gait with frequent tripping or falls. It is often identified in teenagers. Over time, their muscles may atrophy. We have already helped this family find the right home. It was one story and interestingly they needed a pool. We also are helping them replace the floor-covering with very few transitions to trip over.
Why a pool?
With this particular disorder, non weight bearing exercise is helpful in prolonging the use of their extremities into adulthood. Endurance sports like swimming and biking extend the useful life of their muscles and preventing nerve damage/neuropathy often observed with this rare disorder. These exercises slow down and can even prevent their young muscles from atrophy. Most of our clients are making decisions on the home that they live in based on their particular desires. Perhaps one would like a master bedroom downstairs? Perhaps you would like a large back patio or an outdoor kitchen. Families with medical needs have to think differently.
In this case flooring surfaces needed to have clean, even transitions that do not allow for tripping hazards. Having the home entirely on one floor was a plus in case the disease progresses to a point where the family needs to care give. This notion gave Elora and I a tremendous desire to make a deeper impact. Having been faced with tough medical choices of our own we knew there was a way to make a way to make a difference.
Biking
As many of you know, over the past year Elora and I have found a new passion in cycling as a family. It is a great way for us to engage our kids, get healthier and see some beautiful sights. When we saw that our friends would be moving near us, we thought that the kids could use nice bikes to extend the use of their extremities and gross motor skills by cycling with us. Our hearts are to introduce them to a sport that could become a life long passion.
We immediately set out to get them set up with some premium bicycles. The problem is that really great bicycles are expensive. These children needed something more than Walmart has to offer.
It all started with a few text messages to some fellow entrepreneur friends. Why business people? Well, against popular belief, business people find success serving others. In fact most are in the habit of serving and giving. It is a character quality I find in most successful business men and women. They are the most generous people I know. In fact, they already plan to give. It is possible that generosity is simply a character quality directly related to those skilled and versed in the use of money? Of course. I texted eight different close friends and fellow colleagues. We did it privately.
In three weeks we had raised the necessary funds to get them in bicycles they can ride long distances on.
One of my friends, unbeknownst to me, had set up a small non-profit for this specific purpose. To be able to have a tax deductible landing spot for his friends and colleagues to funnel their donations to real people. I know large organizations do a lot of good, but how much more powerful is the dignity of someone you know and trust coming along side you to love you at a specific time and a specific need.
Secondly, we pivoted to my favorite bicycle shop here in Tulsa, Bixby Bicycles. Elora and I have purchased three bikes from them so far. Aaron Neutzman and Buster Brown go above and beyond serving their clients. They immediately agreed to sell us at their cost two professionally fitted Fuji bicycles along side all the necessary accessories to outfit Ian and Grace. They were incredibly generous with both their time and their finances.
All told, the teens received the perfect outfitting and a great start into a more sustainable lifestyle. Stories like this have us beaming with joy because it was simply people who had prepared to make a difference coming together. When the opportunity arose, they did it!
The elements of micro philanthropy are simple. Look for opportunities to give to those close to you. Choose opportunities that personally move you with compassion. Ask a few friends to join you. They may have the same feelings of compassion as you. Find some one you know that has a small non profit and present the idea to them so you and your donors can receive the tax deduction. (If this doesn't exist, don't let that stop you!) If it is relevant, ask for like kind donations from a business that can meet the need and then get it done! There is power in joining forces.
Now go be a philanthropist.
An joy filled day at Bixby Bicycles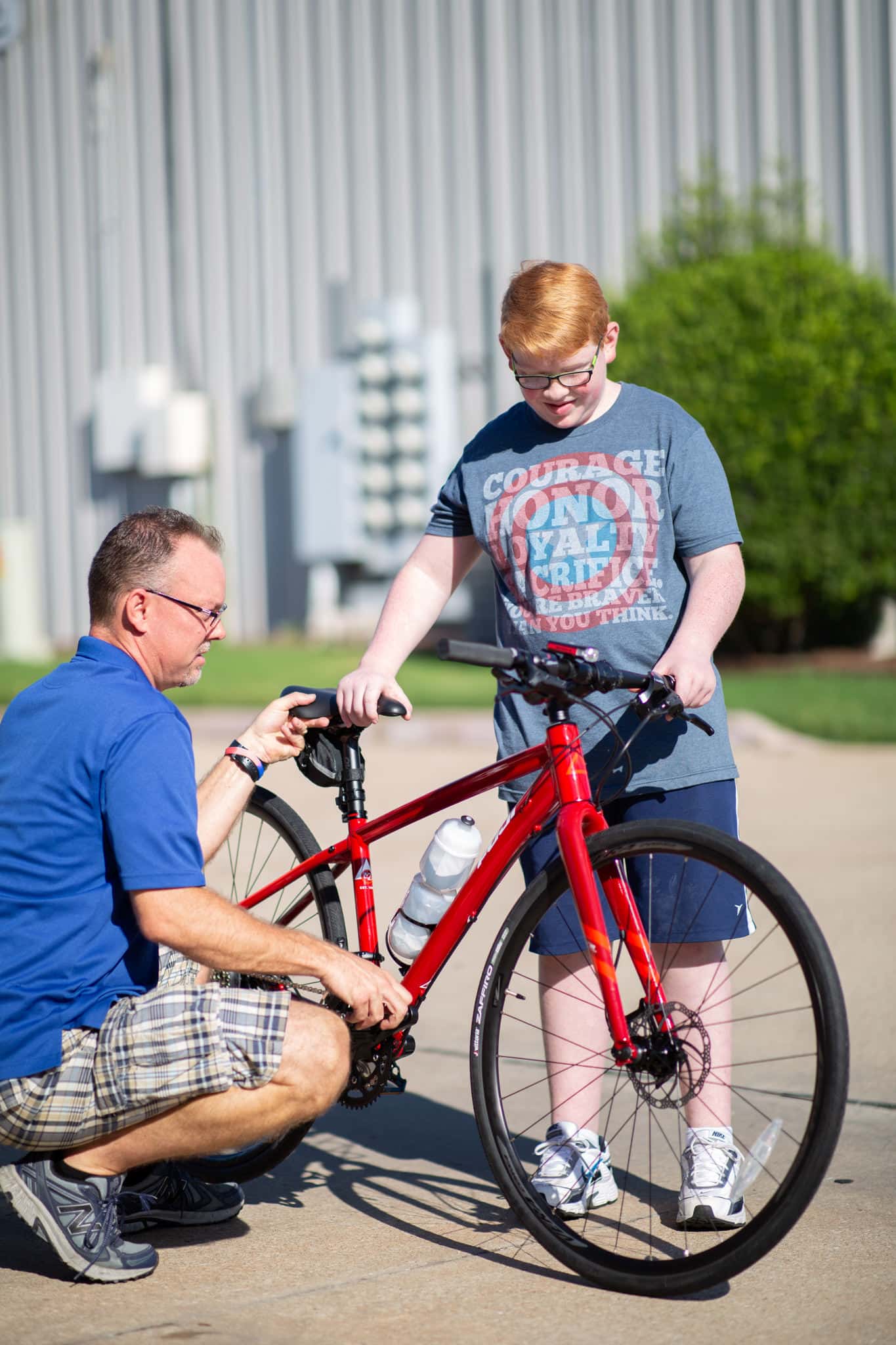 Bixby Bicycles does a professional fit
Many bicycle manufacturers are over a hundred years old. Science and technology come to bear when choosing a bike. We chose professionals to fit a comfortable bike to these kids specific health needs.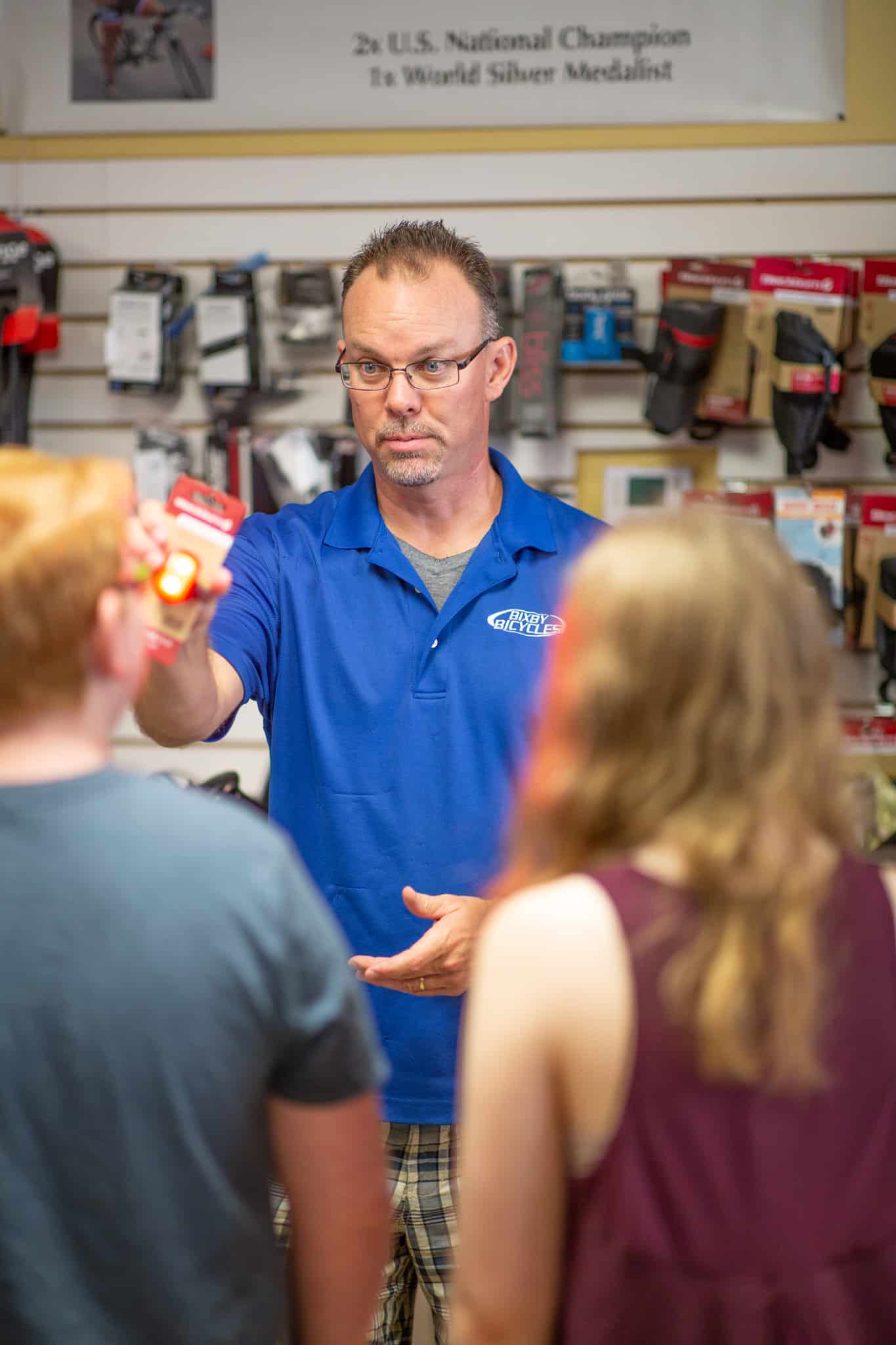 Aaron Nuetzmann introduces safety in a calm patient way
The enemy of the cyclist is an unaware motorist. There are many ways to get a driver's attention. Ian and Grace were outfitted with the best .
There is always wind in your face on a bicycle
All of us are in pursuit of joy. A bicycle is simple joy. It does not matter how hot it is there is always a little relief in the breeze. Grace is experiencing more than wind in her face. She gets independence and joy.
Micro Philanthropy Highlights
Micro Philanthropy deals in small numbers, joins family and friends, respects anonymous donors wishes and gets a lot done. In this case we celebrate an new healthy lifestyle with two kids, the joy of new bikes, and a silver lining on some tough news. These methods can be done by most people and can work in most any community.
Total Donations & Like Kind Services
Doing good is easier than you think. Find a need and ask others to join you. All of us want to meet a real need. We do not need to have a lot of money.
Meet Shea Fite & Aaron Nuetzmann
A year ago, I made a commitment to get my whole family into cycling. We needed a deeper family identity as our kids transitioned to their teenage years. I bought my bike first. Then I went on to buy my daughter, Isabelle's and then Elora's. I bought them separately at different local bike shops around Tulsa. I finally landed at Bixby Bicycles at 111th and Memorial where I met Aaron Nuetzmann.
His service was superb and he took the necessary time to make sure everyone in my family had exactly what they needed. One of my sons has specific needs when fitting a bike. I know that many shops in town could have sold me a bike. I also know that none of them could have served us like Aaron. We modified my son's bike to make it fit and to help him get on a path to graduate to a better bike as he grows.
Aaron is an expert at his craft and a great coach. We immediately became fast friends. Bixby Bicycles has built a reputation on serving. Like my business, putting the client first in every interaction is indeed the most important thing. This is why these types of businesses are also very generous. After taking care of me so well, I approached them about taking care of the Cartledge family. They were all in.